Friends of the Eagan Core Greenway
Press Release
---
PRESS RELEASE
| | | | | |
| --- | --- | --- | --- | --- |
| FROM: | Caponi Art Park and Friends of the Eagan Core Greenway | &nbsp &nbsp &nbsp | CONTACT PERSON: | David Brunet |
| TO: | Twin Cities Press Associates | &nbsp &nbsp &nbsp | TELEPHONE: | 651-578-4692 |
| DATE: | Monday, November 22, 2004 | &nbsp &nbsp &nbsp | E-MAIL ADDRESS: | Organizer@EaganCoreGreenway.org |
| | |
| --- | --- |
| SUBJECT: | Caponi Art Park Receives State Farm Community Grant |
Eagan, Minnesota
On Monday, November 22, 2004, the Caponi Art Park and Learning Center was the recipient of a $2,500 grant, provided by State Farm Insurance Company's Good Neighbor Grant program. The program awards grants to education, safety and community building programs in support of their efforts aimed at strengthening the communities in which it does business.
The brief ceremony was attended by Anthony Caponi and his wife Cheryl, founders of the Art Park, and David Brunet, another State Farm staff member who also serves as a Friends of the Eagan Core Greenway board member. Three State Farm Insurance agents from Eagan, Robin Kleffman, John Curlee and Paul Eggen, presented the check.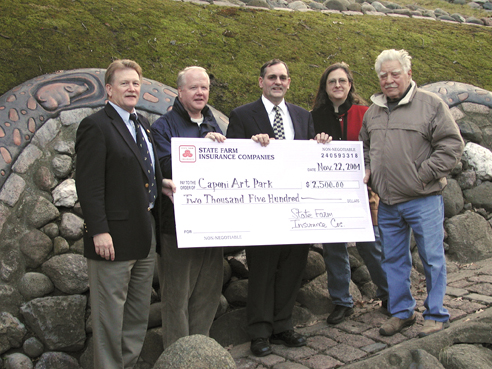 State Farm Community Grant Awarded to Caponi Art Park
From left: State Farm Staff, Robin Kleffman, John Curlee and Paul Eggen,
along with Art Park Founders, Cheryl and Tony Caponi
"The Caponi Art Park is a real community treasure," said Kleffman. Curlee added, "It really makes Eagan a better place to live."
In awarding the grant, State Farm called Caponi Art Park the most prominent cultural center in the South Metro area, serving more than 4500 visitors each year from all over the Twin Cities area. In addition, its programs and performances are family-oriented.
Caponi Art Park and Learning Center is a 60-acre privately owned park in the heart of Eagan. Sculpture and performance spaces are integrated into the landscape throughout the wooded park. Walking trails are open to the public, and in summer, the community is invited to free performances by regional theatre companies and musicians.
The Art Park is one of the key pieces of open space in what has been designated the Eagan Core Greenway---named one of the Twin Citesí "top ten urban treasures" by the McKnight Foundation. A coalition of open space groups is currently working to acquire funding to add Caponi Art Park to the Eagan parks system. State Farm agent Paul Eggen said, "Itís a great resource not just because of the open space, but also for the programs and the art. The whole park is really a work of art."
The State Farm grant is the second major corporate gift that the Art Park has received this year, having been awarded $10,000 this past summer from Eagan-based Thomson-West, where a number of Friends of the Eagan Core Greenway members are employed and lobbied for the award.
For more information on these topics, interested individuals may visit: www.EaganCoreGreenway.org
---
---